At Shepard, our greatest strength lies in the collective talents, dedication, and diversity of all our associates. Our executive team builds on this strength to guide the company vision, drive innovation, and foster growth for both our associates and customers.
John Henley
EVP, Shepard AV
Sarah Feske
SVP, Account Production
Ray Williams
SVP, Operations
Sarah Aivaz
SVP, Business Solutions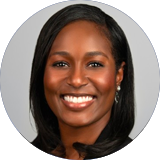 Ayla Carswell
VP, Human Resources
Carl Mitchell has spent his entire career in the trade show industry, starting with Manncraft in Atlanta in 1971. He was appointed vice president and general manager of GES in 1976, moving up to regional vice president of GES in 1978. Carl purchased Shepard with his then partner, Sherman Wade, in 1982.
He has served on the board of the Atlanta Convention Visitor Bureau and the local boards of the American Red Cross and the National Kidney Foundation. He was one of the original commissioners representing the convention services companies on the APEX Initiative of the Convention Industry Council. In addition to all of this, Carl has served on the board of the Exhibition Service Contractors Association, acting for two terms as ESCA president.
As Shepard has grown to a combination of 16 offices nationwide, Carl has transitioned to the role of Executive Chairman – still active and involved with Shepard business on a daily basis.